Modern Australian Vegan: The Simple Guide to Going, Being & Staying Vegan
This blog post was sponsored by So Delicious but all opinions are my own.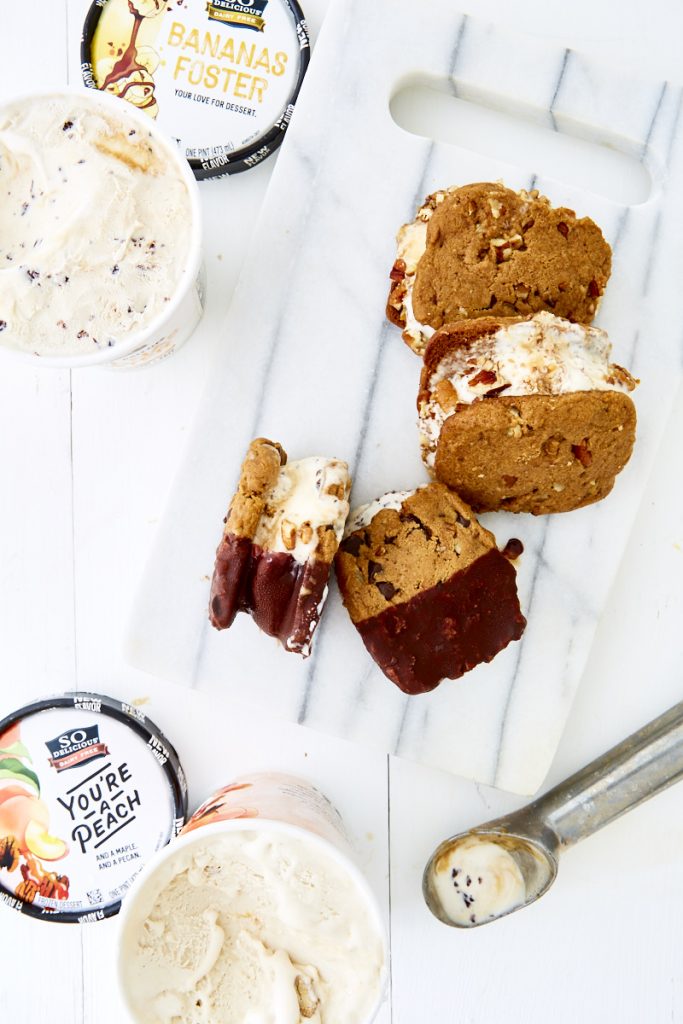 Around this time every year, when the weather starts getting soul-crushingly hot, my body automatically starts rejecting warm meals and yearns to survive only on cold (preferably frozen) food. Recently, I invited a couple friends over for sandwiches. But due to the recent heat, we all agreed that those sandwiches should be of the frozen dessert variety. The night before our shindig, we had a group text going, discussing what kind of dessert sandwiches we should have, and it was kind of a toss up between two different types of caramel pecan ice cream sandwiches. I told them I'd sleep on it and the next morning, when I woke, I knew what I had to do: Find a way to make both AND make it as a dairy-free frozen dessert.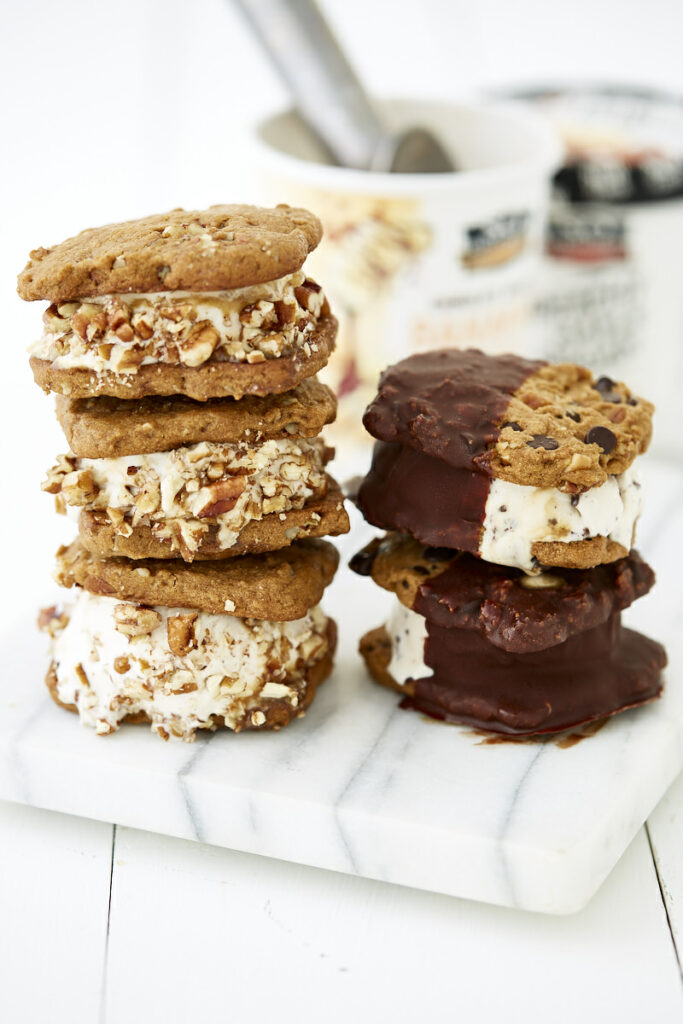 First thing I did that morning, after walking the dogs, was make a simple, three-ingredient homemade salted caramel sauce. Then I prepared the cookie dough and popped both the sauce and the dough in the fridge to chill while I went on my run (note: you do not need to go on a run to complete this recipe). After my run, I got down to business.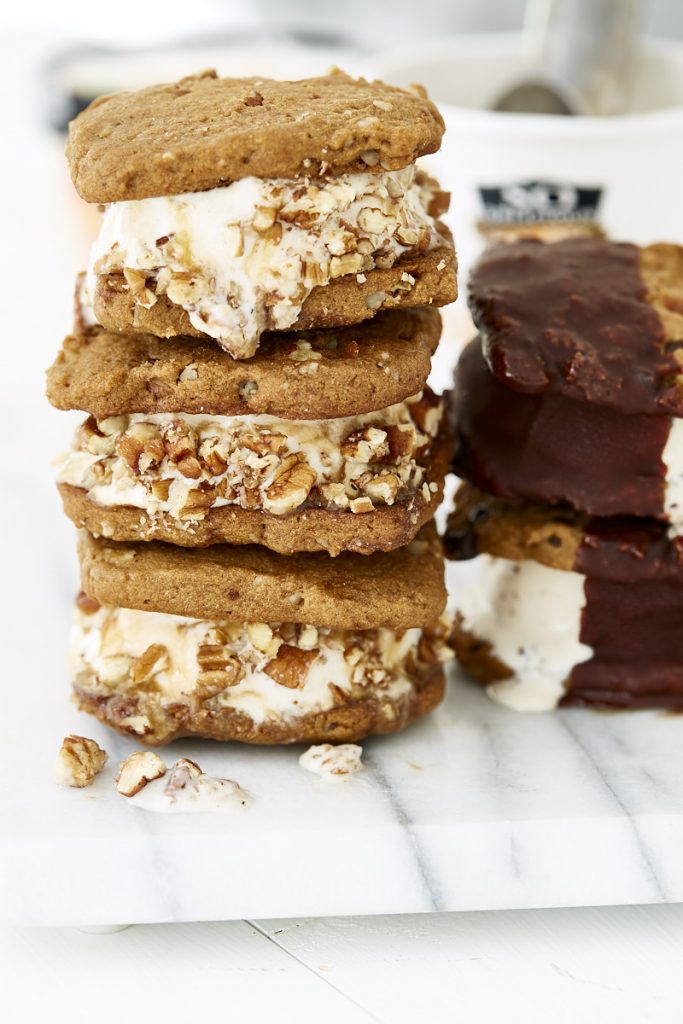 I knew which two dairy-free frozen dessert flavors I was using: Peachy Maple Pecan and Chocolate-Drizzled Bananas Foster, two of the five new frozen dessert flavors from So Delicious. They're all pretty amazing, and I don't usually love fruit flavors so that's saying a lot. The Peachy Maple Pecan has a subtle sweet peach flavor with maple swirls and tiny pieces of pecan throughout. The Chocolate Drizzled Bananas Foster has caramelized swirls flowing through creamy banana with flecks of chocolate mixed in. They're both rich and heavenly but not overpoweringly fruity. I also really like the Blueberry Cardamom flavor.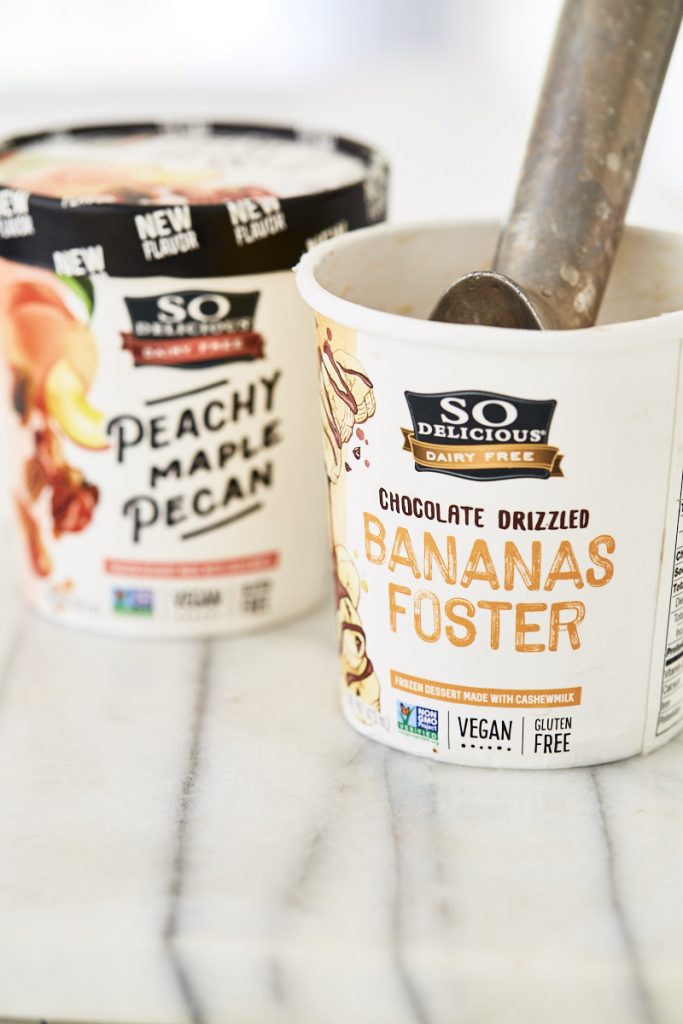 I wanted to keep this "I'm making two different dessert sandwiches" endeavor as simple as possible. So I took that cookie dough I'd made earlier and split it in half. Half of the dough, I kept as-is, and scooped it onto the baking sheets, and shaped the cookies into square shapes (very cute, but totally unnecessary. Circular cookies would work just fine). Then, with the remaining half of the dough, I folded in some chocolate chips. Because WHY NOT?! It's chocolate!!!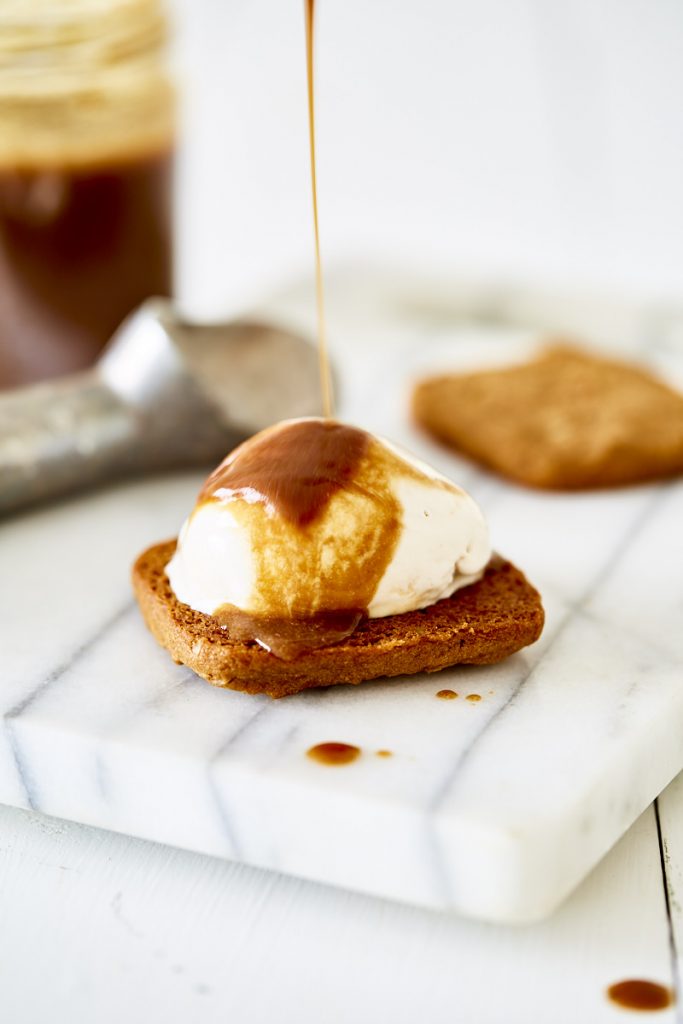 Once the cookies had baked and cooled, the task of sandwich-building began. I'm going to stop my story here and offer some advice: If you want to make frozen dessert sandwiches, especially ones you may want to photograph, don't do it during a heat wave. Or if you do, at least make sure you have air conditioning. Anyway, I plowed ahead in the humid hot-box I call home, sweat dripping from my forehead, as I scrambled to assemble these sandwiches, the pints melting by the second. For the Peachy Maple Pecan, I used pecan cookies, a dollop of caramel sauce, and then after topping it with the other cookie, I smashed chopped pecans around the perimeter of the sandwich and then rushed them to the freezer. For the Chocolate Drizzled Bananas Foster, I used the chocolate chip pecan cookies and the same dollop of caramel. After they froze for an hour, these cookies got the special treatment of being quickly dipped in chocolate magic shell a couple of times before being rushed back to the freezer for another hour.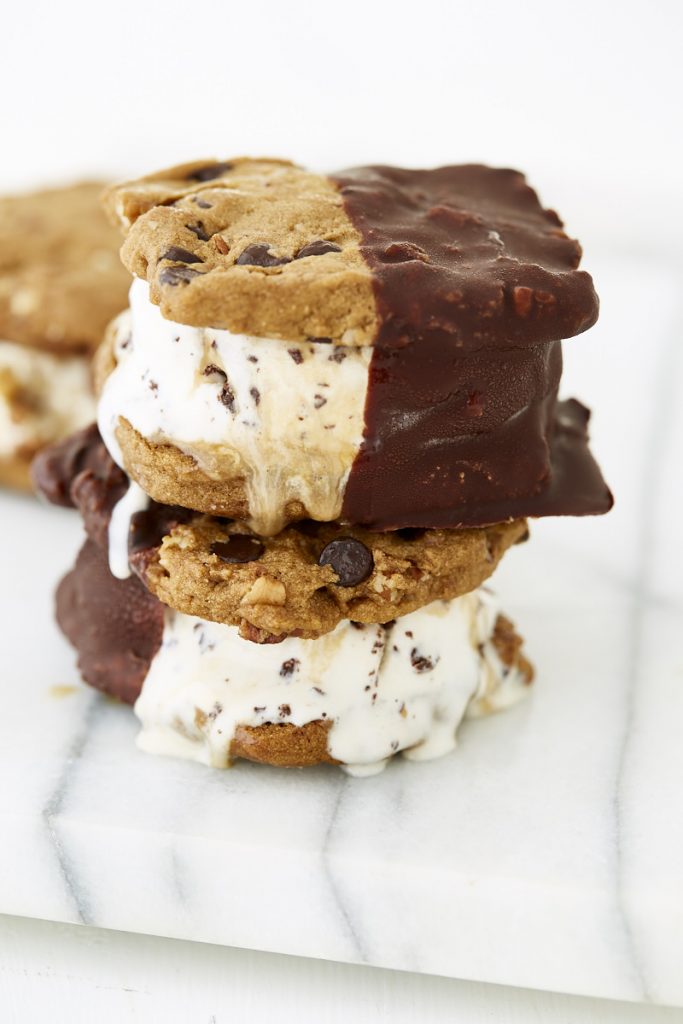 A few hours later, my friends and I were gathered around the dining table, devouring the two different types of caramel pecan sandwiches. We were all astounded by how good they were (even though they'd partially melted during the photo shoot and had been refrozen). I couldn't decide which one I liked better. I do prefer the Peachy Maple Pecan flavor over the Bananas Foster, though in sandwich form, it's a toss-up for me. One of my friends preferred the Peachy Maple Pecan sandwich more and the other preferred the Bananas Foster sandwich. Chris only tried the Bananas Foster sandwich and he was a huge fan (and he dislikes the combination of fruit and chocolate altogether, so this was quite a triumph). I recommend trying each of them yourself and then coming back here and commenting with your vote. Or just go to the store and pick up all of So Delicious's new flavors– Peachy Maple Pecan, Chocolate Drizzled Bananas Foster, Blueberry Cardamom, Toasted Coconut Key Lime, and Cold Brew Coffee. That way, you're guaranteed to stay cool through this heat!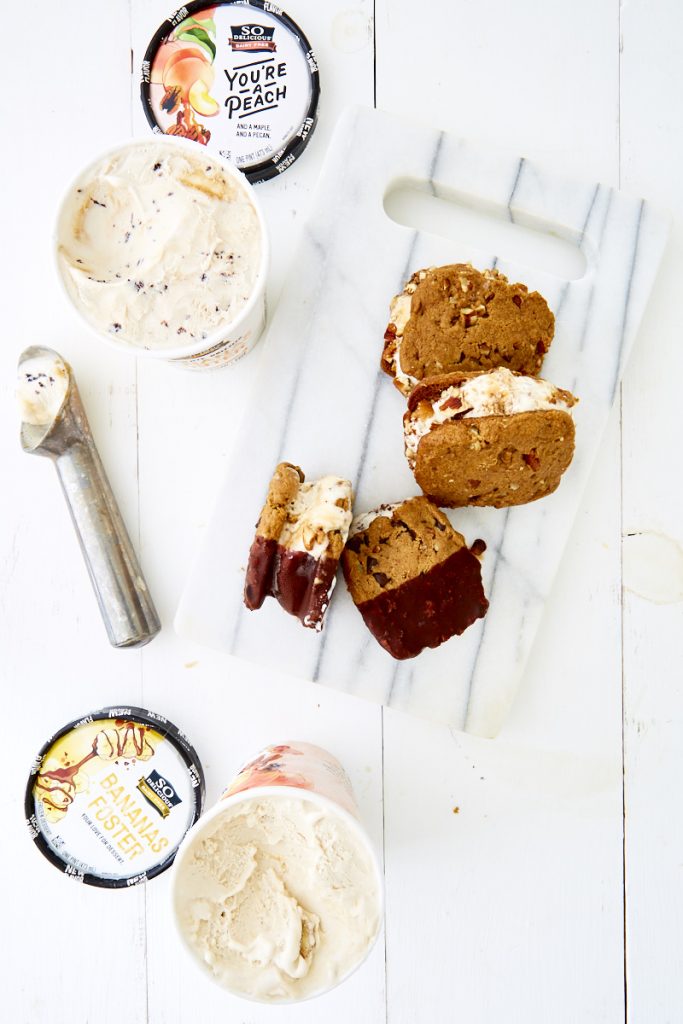 Modern Australian Vegan: The Simple Guide to Going, Being & Staying Vegan